So
this
is interesting.
Utilizing these rules, I guess I'm thinkin' of trying out a toy car. Now I was going to look at some actual toy features and pick some I liked or that I thought would be useful... but I fell in love with this little tyke: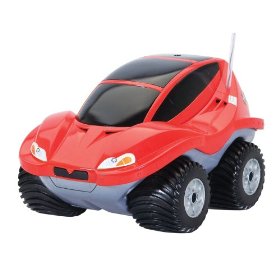 On land or in water, the Morphibians Rover is the perfect toy for a
child on the move! Featuring real working headlights, 4x4 power, and a
full-function radio control, the power is in your hands with
Morphibians!
So here we go:
4x4 Power! (2)
Floats on water! (2)
Real working headlights! (2)
Durability: (2)